Experience & Accomplishments
The Personality of Dr. Arvind Sharma
Dr. Arvind Sharma has charismatic personality, his soft-spoken nature and a dazzling smile on his face wins everyone's heart. He is a skilled politician, because of his family values he works for the welfare of all like a saint, emphasizing his values ​​in politics and is the leader of 36 fraternities. He considered himself a "Karyakarta" and all Karykartas as his extended family.
His personality is such that one who meets him once cannot remain without
being influenced by his qualities. He leaves a deep impression on one due to his words & an attitude.
One of his important qualities is that he is calm & cool even in adverse situation and faces adversity with restraint.
There is a very important quality of his working style.
The spirit of service is engraved in him and keeping the same basic sentiment meaningful, he continues to serve the people day and night. One of his phenomenal qualities is courage due to this nature, he does not hesitate to take strong steps to raise the voice of the common people and his workers without being influenced by the people of the opposition as well as the parties.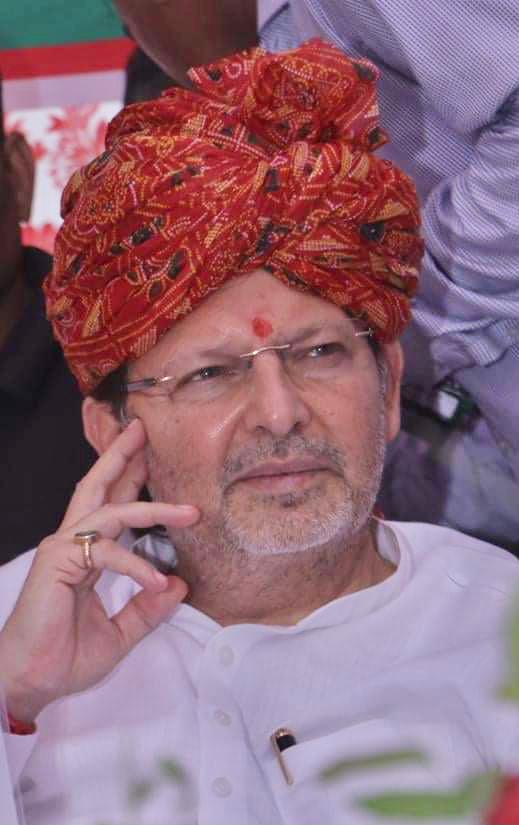 Life at Glance
Dr. Arvind Sharma was born on 12 October 1963 in a saint family in village Majra, District Jhajjar, (Rohtak) Haryana, His grandfather Sant Shri Janaki Prasad ji was a great saint, his father Shri Satguru Das ji was a retired principal and Mother Smt. Vimala is a humble housewife.
He got his early education from Kendriya Vidyalaya. He did his B.D.S from Dental College Rohtak, Haryana and M.D.S. (Prosthodondist) from Ahmedabad, Gujrat, India.
His wife Dr Rita Sharma is a radiologist by profession and She is also of considerable social and religious nature, with her arrival in Dr. Arvind Sharma's life the pace of social work of Dr. Arvind Sharma Ji doubled. They have two children a son and a daughter his daughter is a doctor and son is an engineer.
After completing his M.D.S. Dental Surgery Education, he joined Haryana Public Service. He passed the examination of Haryana Civil Medical Services and worked as a dental surgeon in Sonepat for some time, after that he started his own clinic in Delhi and due to his acumen made the clinic to the heights in a short time. Along with the clinic, he also did social work, his grandfather, father and mother lead a holy and noble life, they inspired him to do social service. To improve the miserable condition of the rural people, to overcome the shortage of drinking water in the rural area he decided to leave his clinic to serve the rural people. Soon a number of social activists and philanthropic organizations joined the fleet of these and were able to form a large team.
The flood which ravaged the region in 1995 forced to devote all his time and energy serving people. During the same time, he arranged relief work for the people in Sonepat and nearby places. He also organized medical assistance for the district.
Politics was never been a cup of tea for him but he was forced by the overwhelming support from the farmers, artisans, intellectuals cutting across castes & sectarian belief. Being totally apolitical he was persuaded and driven to enter politics. He in reality embraced politics just two months prior to General elections. Thus, a budding and youthful social worker was relived as representative of masses.
He fought his first election on the issue of Panchayat Raj system. The Panchayati Raj Sangharsh Morcha, which was formed in the state of Haryana in June 1995, immediately after the Zilla Parishad II level Panchayat elections, was the director of this social organization and this organization worked for Panchayati Raj.
Out of 750 villages of Sonipat, 150 villages had the problem of drinking water and the second problem was the movement of the employed people to the destination. Dr. Arvind Sharma ji ensured that the journey of thousands of people traveling from Sonipat to Delhi every day is convenient and smooth. To solve this problem, the number of trains connecting Sonepat to Delhi was increased immediately and to ensure punctuality of industrial workers and office goers and encourage the production of industrial units.
He encouraged and motivated the industrialists and industrial units of his constituency to generate employment at the local level so that the local people who used to come to Delhi to earn their livelihood would get employment at the local level. A fully functional sugar mill was established in the Gohana region where sugar mills did not exist, so that the local farmers could take sugarcane directly to the Gohana sugar mills instead of far-flung cities. This has directly and indirectly provided employment to thousands of people at the local level.
He won the hearts of all castes, classes, youth and elders of the society with his public service works; he used to work continuously for about 18 hours a day, which continues uninterrupted till date. He is always on foot to serve the public and is known for his natural humility and consistent manners.
Political Journey
On the request of the people, Dr. Arvind Sharma contested election as an independent candidate from Sonepat parliamentary constituency in the year 1996 and won by a large margin because of his grass root level personality and good contact with dalits, students, women, educationists, intellectuals, dalits, and farmers. He had a large and stable vote bank among all classes and castes in the Sonepat parliamentary constituency and did not resort to any established political party at that time for his victory. Through his own financial and technical resources, he made available drinking water on a large scale by installing hand pumps / tube wells. Stoppage of many trains was made at sonepat during his tenure on demand of his peoples.
In the year 2000 Haryana Vidhan Sabha elections, campaigning was carried out in Gohana, Safidon, Julana, Kailana, Rohat, Rai, Baroda, assembly constituencies of Sonipat parliamentary constituency.
In the year 2000, in the year 2000, campaigning was carried out in Kiloi Bahadurgarh, Hasangarh, Beri, Jhajjar, Meham, assembly constituencies of Rohtak parliamentary constituency.
In the year 2000, in the Haryana assembly elections, campaigned to campaign in Narwana, assembly constituency.
In the year 2003, he was appointed as the Central Election Observer by the All-India Congress Committee for the Delhi Assembly elections.
In the year 2004, he contested from Karnal parliamentary constituency and again defeated his opponent by a record number of votes.
During his tenure, he worked very hard for the welfare of the people and the development of the area, about 20 to 25 crore rupees in the form of financial assistance from District Development Scheme, Special Development Scheme and Haryana Rural Development Fund Scheme and Member of Parliament Local Area Development Scheme. (MPLADS), built a wall around the chaupal, community hall, streets, cremation grounds and established anganwadis, provided clean drinking water, converted unpaved streets into cemented roads. During this tenure, the most important work was the construction of elevated flyover in Panipat, due to which the city of Panipat got rid of traffic jams and even today lakhs of people are benefiting from it.
He never indulged in caste politics and served all thirty-six fraternities. As a committed youth leader, he continued to serve the poor, downtrodden, farmers and minorities. His doors are open 24 hours to welcome everyone and at any time every visitor is welcomed with social etiquette. In the true sense, the "Athithi Devo Bhava" is visible in his house. His wife Dr. Rita. Sharma herself takes full care of every visitor in the form of Goddess Annapurna due to her rituals.
Dr. Arvind Sharma was a former member of the Indian Council of Medical Research in the year 2004. He was a former member of the Consultative Committee on Petroleum and Natural Gas for the year 2004. In 2004, he was a former member of the Standing Committee of the Ministry of External Affairs. He was a member of Railway Committee prior to the year 2004.
In the year 2009, he again won the election from Karnal parliamentary constituency with the blessings of the people, people accepted his good deeds and services. During this tenure also, as before, many public welfare works were continued by him.
Some of the major works done by him during this period are:
Modi's policies, working style and his passion for patriotism drew him towards the Bhartiya Janata Party.
After the formation of Haryana, the families of three lal's have played an important role in the politics of Haryana since the year 1966 till now, but till date none of the descendants of any Lal could win Rohtak Lok Sabha constituency. Being the political capital of the state, the ambition of the big political houses of Haryana has been to win this seat. Only one political family had established its dominance in this seat for a long time. Dr. arvind sharma being from a non-political, social worker family environment, under the leadership of Honourable Prime Minister Narendra Modi, won this important seat. His charismatic leadership, dedication to social work was a boon to him. Blessings of 36 fraternities, grassroots connectivity were a major cause of his victory.
Even though politically this Lok Sabha seat was new to him, Rohtak is his home constituency. With his working style, humble nature and service, he soon made his place in the hearts of the people. During this time, work was also done by the central government on many important subjects, including the removal of Article 370 and the Citizen Amendment Act (Citizenship Amendment Act 2019) Act. For this, they established contact with the affected Hindu families who came from Pakistan and made them aware of laws. Under the leadership of Honourable Prime Minister Sh. Narendra Modi ji, cleanliness campaign was launched on 02 October. To give impetus to this, people of all rural and urban areas were made aware. He met school students and made them a participant in cleanliness drive. He also worked vigorously for the plantation campaign and not only planted saplings himself but also connected others with this campaign. Under the direction of Hon'ble Prime Minister, he went to village to village to promote the "Ayushman Bharat" project passed by the Central Government and explained to the people that with the help of this scheme even the poorest of the poor can get their free treatment in the best hospital. "Atal Sewa Kisan Mazdoor" Canteen was started. He visited the "mandis" continuously and on time to time met farmers to solve their problems.
During the event of emergency arising out of the global pandemic corona, Dr. Arvind Sharma himself went among the people and made them aware of the prevention and safety of the corona. Informed them the rules of mask, sanitization and social distancing. In this difficult time, he contributed to the operation of the railways to take the migrant labourers to their homes safely, as well as help to stop the migration of the labourers, making proper arrangements for their stay here. They established shelter homes and arrangements for their living and food and continuously reviewed the works. At the time of lockdown, ration was delivered door-to-door through workers to the needy. Inspected CHC, PHC, Civil Hospitals & by holding meetings of medical officers from time to time he reviewed the situation. Corona Isolation Centres were established. Along with this, an important work was done during this time that the rates of all private hospitals and private labs were fixed so, that the common man could get the benefit of it.
To connect with each and every village of his area even during the second wave of Corona, he took the help of technology, contacted all the officers, doctors, villagers and workers through virtual medium, took stock of the isolation centres set up in the village and distributed corona kits. And by giving proper directions to them, the problems being faced by the common man were resolved. In this, sanitization was done in all the villages and distribution of masks and sanitizers was done among the people. Establishment of new oxygen plants in all district level hospitals and increasing the number of beds was the prominent collaboration from the central and state governments. His wife Dr. Rita Sharma stood neck to neck with him during the fight of corona. She herself is a doctor and her services to the people during corona cannot be neglected.
During this, Dr Arvind Sharma Covid Warrior team was formed by Dr Arvind Sharma in which district wise list of doctors was issued and their numbers were made public for all so that all corona patients and their associates would directly consult & if needed can get medical help. His team worked day and night under his guidance and benefitted thousands of people in every district, he contributed to the development of many basic facilities under the guidance of Hon'ble Prime Minister Shri Narendra Modi.
Along with this, he participated extensively in the free corona vaccination campaign being run by the central government. Organized free vaccination camps so that the vaccine can be available to all.
Even now, his tireless efforts are going on and realizing the spirit of "Antodaya", he is trying to reach the benefits of all the facilities and schemes run by the government till the last person of the society.
Former Political Responsibilities
Standing Committee of Health and Family Welfare
Central Committee of Tuberculosis Association of India
Indian Council of Nursing
Consultative Committee of Tuberculosis Association of India
The India-Lao PDR Parliamentary Friendship Group
Committee on Absence of Members for Sittings of House
Hindi Salahkar Samiti for the Deptt. Of Economic Affairs